There's No Place Like Hotel Gelato.
We're a licensed café. a gelateria. A fair trade coffee and espresso bar. A sophisticated dessert place. A nice spot for a quiet drink. A source for gluten-free, dairy-free, sugar-free and vegan goodies. A friendly place to bring your family for lunch, brunch or dessert.
Hotel Gelato is so many things. But we're also a one-of-a-kind neighbourhood spot where you'll find good, healthy food, great coffee and wonderful desserts.
We're an independently-run store owned and operated by partners Dan Hoffman and Christopher Borowski, who both have backgrounds in the luxury hotel industry. So when you come to Hotel Gelato, expect delicious goodies, served with attentive hotel-style service. Every need is anticipated and met with friendliness, efficiency and style.
A Beautiful Spot Where You Can Just... Relax
You know that feeling when you're on vacation, where you're completely relaxed and comfortable? That's how we want you to feel here. We've created a space that's upscale, with a mix of old-world elegance and modern charm. Our interior evokes the lobby of a European-style boutique hotel – you might imagine you're on a quiet street in Paris or in an elegant neighbourhood in Milan. It's a perfect place to sip a latte, savour a dish of gelato or enjoy a glass of Prosecco with lunch or brunch.
Part Of The Community
We want to provide you with a place that's comfortable and inviting – somewhere you want to come back to, hang out in, even bring your laptop and work in while you sip an espresso or two. So we listen to what you have to say. You asked for lunch, and we brought you lunch. You asked for wine, beer and cocktails, and we've introduced that too.
Have an idea? Drop by or drop us a line. We'd love to hear from you.
The Masterminds Behind Hotel Gelato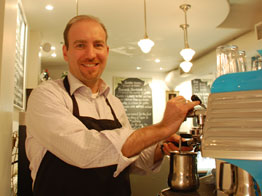 DAN
Dan started off his career in the food industry with a job at Canada's Wonderland. He has worked as a host for the Toronto Star's private skybox at the Rogers Centre (formerly Skydome), and has worked for several major hotel chains... Read More »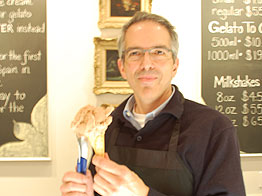 CHRISTOPHER
Christopher has spent his career managing five-star hotel restaurants and directing hotel catering services for luxury brands... Read More »