Espresso Bar / Dreamy, Foamy Lattes And More
Start your day (or enjoy your afternoon or evening) with a perfect cup of coffee. We use only organic, fair-trade beans to make our delicious brewed coffee, and our espresso beans are locally roasted in small batches each week. Feel free to customize your espresso, latte or cappuccino with one of our Italian syrups or a liqueur from our fully-stocked bar.
If you're looking for something that's above and beyond the usual "chain" coffee shop experience – with higher quality, a nicer atmosphere and better prices – check in to Hotel Gelato.
A Sample Of What We Offer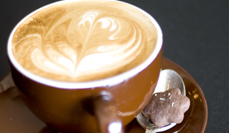 ROASTING
We are passionate about creating the most exceptional tasting coffees, for the most discerning coffee drinkers. Our coffee is roasted, utilizing many years of experience and the latest, high tech roasting technology by one of the most sustainable coffee roasters, Classic Gourmet Coffee.