Our Philosophy / Dessert For Everyone
At hotel gelato, we believe that desserts can be decadent and delicious – without being bad for you. That's why everything we serve is made with fresh, high-quality ingredients that are organic and locally sourced whenever possible. At hotel gelato, eating dessert is something you can always feel good about.
And we think people with dietary restrictions should feel good when they eat dessert, too. So we have a philosophy we like to call "dessert accessibility" or dessert for everyone.
Until now, there hasn't been a place in the GTA where people with diabetes or gluten intolerance could enjoy a decent selection of great-tasting gelato and pastries. So in addition to gelato and baked goods made with traditional ingredients (like milk, butter and sugar), we offer varieties that are gluten-free, vegan, sugar-free, low-sugar, dairy-free and soy-based, and they're all every bit as delicious as the traditional versions.
So whether you're in the mood for a cone, a cookie or a cupcake, there will be something here you can enjoy. We promise.
(Regretfully, the only special diet we can't cater to is a nut-free one. Because so many traditional gelato recipes call for nuts, we cannot guarantee that our desserts have not come into contact with nuts.)
The Masterminds Behind Hotel Gelato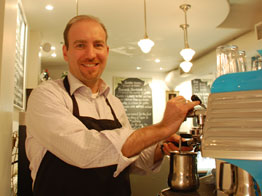 DAN
Dan started off his career in the food industry with a job at Canada's Wonderland. He has worked as a host for the Toronto Star's private skybox at the Rogers Centre (formerly Skydome), and has worked for several major hotel chains... Read More »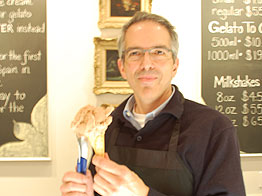 CHRISTOPHER
Christopher has spent his career managing five-star hotel restaurants and directing hotel catering services for luxury brands... Read More »